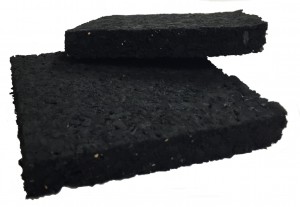 Formed from pieces of a high quality rubber, bonded securely with resin.  It is highly reslient and will compress with little extrusion and recover to 90% of its original thickness.
Features
Rebonded Rubber is a widely accepted form of expansion joint filler today. It can be used in almost any type of residential or commerical application including Corps of Engineers projects such as dams, levees and water treatment facilities.
Conforms to ASTM D-1752 TYPE I, AASHTO M 153-70 TYPE I, HH-F-341-F TYPE II, Class A.
Available in sheet sizes of 36″ x 54″ or precut at the factory to your exact specification requirements.
Rebonded Rubber Data Sheets